Restaurants go it alone despite Deliveroo and Uber Eats fee reductions
Restaurant owners say Uber Eats and Deliveroo are still charging unsustainable commissions on delivery, with many planning to cut the cord on food delivery platforms once the coronavirus pandemic is contained.
Both platforms have cut the commissions they charge restaurants and cafes, with Uber Eats on Monday reducing its commission from 35 per cent to 30 per cent, while Deliveroo last week temporarily dropped all commissions on pick-up orders and cut its commission to 5 per cent for orders for which the restaurant provides its own delivery drivers.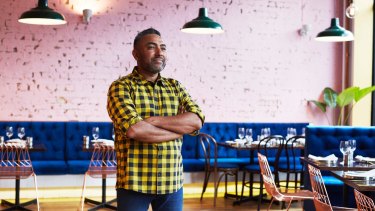 Jessi Singh, owner of Melbourne eateries Horn Please and Daughter In Law, said Uber Eats and Deliveroo had become a "necessary evil" for the industry but added Uber Eats' trimmed commission of 30 per cent was still not sustainable for restaurants.
Mr Singh's restaurants are still listed on the delivery platforms but he is encouraging customers to bypass them by offering a 30 per cent discount if they pick up or rely on internal staff to deliver.
"We will keep doing our own delivery even when this is over," he said. "A lot of restaurants like me will start employing our own drivers. The reason these apps came in is a lot of Australians didn't want to do these jobs, maybe after this is over people will say 'a job is a job'."
The trend of bringing deliveries in-house has picked up during the pandemic, with a growing number of restaurants opting to deliver the food themselves or encouraging customers to pick up food.
Sydney restaurant group Merivale, helmed by billionaire entrepreneur Justin Hemmes, is using its own staff to do deliveries, while in Melbourne, restaurants including Bistro Gitan, Horn Please and Daughter In Law have tried to get patrons to order directly rather than through global platforms such as Uber Eats and Deliveroo.
French restaurant Bistro Gitan is offering delivery hampers and pick-up, and co-owner Edouard Reymond said the commission cut by food delivery platforms had come too late.
"If I was Uber Eats I would have cut commissions as soon as this happened, if they had come to the table a lot of restaurants would have used their platform first," he said. "Now they have done the damage to themselves and a lot of restaurants have worked out how to do it themselves."
Mr Reymond said the restaurant had worked out delivery routes and a system through trial and error.
"The first week we did it was chaos," he said. "But we learned from our mistakes and this weekend we did 250 deliveries and it worked really well."
Restaurant & Catering Association chief executive Wes Lambert said before coronavirus, Uber Eats had 60 per cent of the delivery market, while Deliveroo and Menulog made up 30 per cent and self-delivery apps 10 per cent, but the number of restaurants organising their own delivery and takeaway was increasing.
The push back from the restaurants is coming at a time when Uber Eats' parent company, Uber, is showing signs of stress, with the company last week announcing it would cut 3700 jobs globally, with around 100 of those jobs expected to go in Australia.
Uber Eats regional general manager for Australia, Jodie Auster, declined to comment on the job cuts and pushed back on calls for further commission reductions.
"Fundamentally, like restaurants themselves, we are a low margin business," she said in a statement on Monday.
The beneficiaries of the move to self delivery have been startups like Australian platform HungryHungry, which enables restaurants to organise their own delivery.
HungryHungry was processing 10,000 orders a week before coronavirus and founder Mark Calabro said it is now over 50,000 a week.
"The demand coming at us at the moment is unprecedented," he said. "I wouldn't be surprised if restaurants are saying a 5 per cent cut by Uber Eats is nice but it is not enough."
Source: Sydney Morning Herald https://www.smh.com.au/business/small-business/restaurants-go-it-alone-despite-deliveroo-and-uber-eats-fee-reductions-20200511-p54ruy.html
If you liked this article, then please follow us on Facebook.