Future of food delivery in the age of coronavirus
The strange future of home delivery
Delivery services are changing the way they do business to ease the pressure on supermarkets and cater to the populations unable to visit stores during the coronavirus pandemic.
With Coles and Woolworths both suspending click and collect services, and Coles stopping home deliveries to everyone except the vulnerable, other food delivery services are now having to pick up the slack, catering to those who cannot visit stores.
Menulog, Deliveroo, Uber Eats and even Domino's have announced they will provide contactless delivery, meaning the delivery person will leave the food at your door, move away, and then call you to tell you the food has arrived.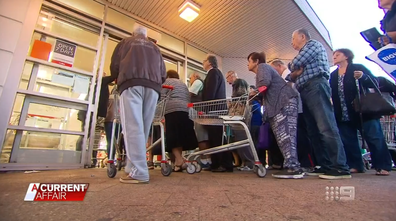 The process has been introduced to ensure food can be delivered in a safe way that customers feel comfortable.
"We've had 25 per cent of our deliveries select this option, our customers are showing that there's a real need and a real want for this," Domino's Australia CEO Nick Knight told A Current Affair.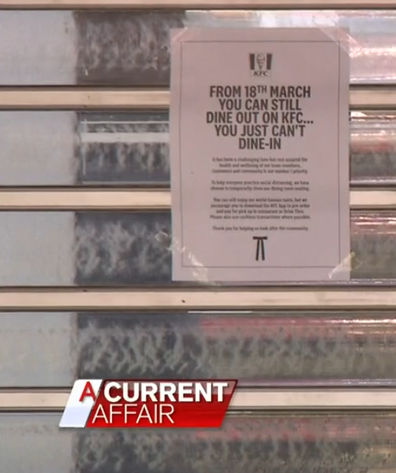 Both Mcdonalds and KFC have followed suit and are encouraging customers to use drive through. KFC has also banned dining on site.
A Current Affair reporter Pippa Bradshaw tested out the new method of ordering food, requesting a contactless delivery of pizza from Domino's.
Although she asked for the food to be left at her door, the driver told her he wasn't able to bring it up the stairs, saying the corridor was "too narrow".
Instead, the pizza was placed out the front to be collected.
Smaller business are also jumping on the contactless bandwagon. Mamma Mia's pizzeria on the Gold Coast is also using this practice for its deliveries.
"We have noticed an increase in deliveries," Mamma Mia's owners Andrew and Miranda Beardshall told A Current Affair.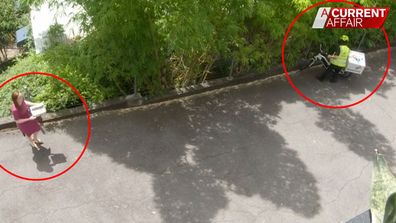 They believe this is the way everybody is going to start delivering from now on.
Especially if they want to remain in business during these uncertain times, they said.
"Those that aren't already offering a delivery service, I think they'll need to start doing so," Miranda said.
The economic pressure on small businesses and restaurants at the moment is huge.
"You have a look around at the moment, there's tumble weed blowing through a lot of these places," 2GB radio presenter Ben Fordham said.
He has launched a petition calling on delivery giants like Uber Eats to reduce its commission.
"[It's a] pretty simple argument, everyone is pitching in to help out at the moment, and the food delivery businesses should be pitching in too."
Mr Fordham claims the popular delivery services charge up to 35 per cent commission on each delivery. The commission, he says, will simply send restaurants broke during the coronavirus crisis.
"The message to these food delivery giants: if you don't step in and help these restaurants and cafes, they are going to go bust, and if they go bust that affects your bottom line."
Source: Channel 9 A Current Affair https://9now.nine.com.au/a-current-affair/coronavirus-food-delivery-contactless-service-pandemic-reaction/e49a21c7-227f-485b-9ed6-7ca3edc91628
If you liked this article, then please follow us on Facebook.